Music with balls…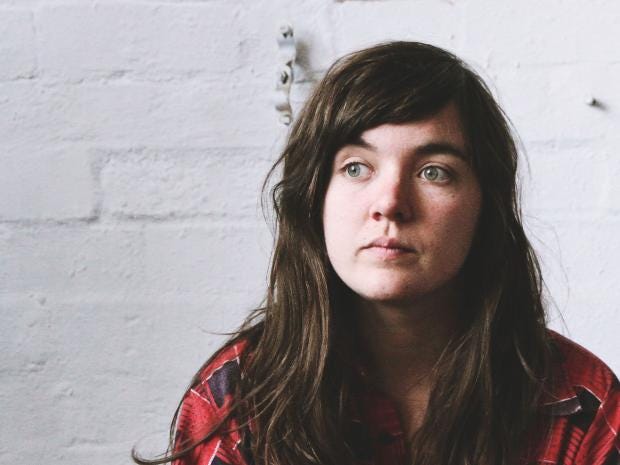 One of the major criticisms of indie music in this country is that it has always been a bit of a boys club. For better or worse, the majority of musicians working in independent music are often sad lads singing about being lonely. With guitar music in a terrible state at the moment however it is the indie boy's sisters who are keeping the flag flying.
With that in mind, this list is a celebration of all those female recording artists who are ensuring that new music remains exciting and fresh. That means there is no room for influential behemoths such as Garbage, Hole or L7 nor for more long standing indie artists such as Rilo Kiley, Metric and the Yeah Yeah Yeah's. This list is about what is happening here and now. Starting with…
10. Goat Girl
Who are they?
Goat Girl take the bratty DIY sound of Sonic Youth and drag it kicking and screaming into the 21st century. The South London four piece have attracted critical acclaim for their eponymous debut album and with 'The Man' they already have a genuine underground sleeper hit on their hands.
For fans of: Sonic Youth, Bat for Lashes, Suede
9. The Lovely Eggs
Who are they?
Technically this band have been around for almost a decade but only recently have they started to play to bigger audiences. The Lancaster band consists of married couple Holly Ross and David Blackwell and they combine surrealist lyrics with an abrasive guitar sound.
For fans of: The Fall, Wedding Present, The Young Knives
8. The Orielles
Who are they?
Probably the best band to ever come out of Halifax, that's who. The Orielles released their debut album Silver Dollar Moment to acclaim this year and are all set to storm Tramlines when they land in July. The band combine the traditional jingly jangly indie guitar sound with a harder edge. Straight outta Halifax…
For fans of: Yuck, Menace Beach, Ultimate Painting
7. INHEAVEN
Who are they?
Another South London band, who have supported the likes of Circa Waves, Jamie T and Blossoms, it feels as if the big time awaits Chloe Little and her band. INHEAVEN have followed the lead of Wolf Alice by providing a more experimental rock orientated sound to their indie credentials.
For fans of: Ash, Bush, Smashing Pumpkins
6. Dream Wife
Who are they?
A Brighton four piece who recently received a five star album review from the NME. The band combine fierce vocals with screeching guitars to produce something that is as terrifying as it is mesmerising. Their second album will be fantastically dreadful or a game changer. One to watch.
For fans of: Pitchshifter, Hole, Garbage
 5. Wolf Alice
Who are they?
Relative veterans for this list, Wolf Alice are pretty much adored by everyone and have just released their second album on the back of a sell out tour and various festival appearances. I preferred their first album personally but that's just me. I am almost always wrong about everything though so this is probably just another thing that I am wrong about.
For fans of: Silversun Pickups, Foals, Sunflower Bean
4. Sløtface
Who are they?
A quite frankly brilliant punk rock band from Norway, if you need to get the party started, Sløtface should be your first port of call. Combining power pop riffs with snarky vocals and catchy melodies is no mean feat. Oh and it is pronounced slutface apparently.
For fans of: Be Your Own Pet, The Wombats, The Hives
3. Honeyblood
Who are they? 
A Scottish duo who somehow aren't massive yet. Honeyblood have released two mega albums and are one of the most consistent live bands on the circuit. Another band to catch at Tramlines this year, Stina Tweedale and Cat Myers sing about love, romance and relationships… these are songs about boys basically. Think Best Coast but coated in Irn Bru.
For fans of: Best Coast, Circa Waves, Sundara Karma
2. Courtney Barnett
Who is she?
Not  a band I know but she is fucking brilliant so she qualifies for this list by default. Courtney Barnett came from nowhere with her massive international hit 'Pedestrian at Best' in 2015 and she has since gone from strength to strength. Her forthcoming album Tell Me How You Really Feel will be one of the most eagerly anticipated of the year.
For fans of: Conor Oberst, PJ Harvey, Father John Misty
1. The Big Moon
Who are they?
For my money the best indie rock band in the country right now. The London four piece have won the hearts and minds of millions with their astounding debut album Love in the 4th Dimension and a Mercury nomination is proof of their upward trajectory. Music should be fun, it should be real, it should inspire all of the feelings. The Big Moon do all that and more. The future is bright on the Moon.
For fans of: The Libertines, Maximo Park, Milburn