If School of Rock was set in Coventry…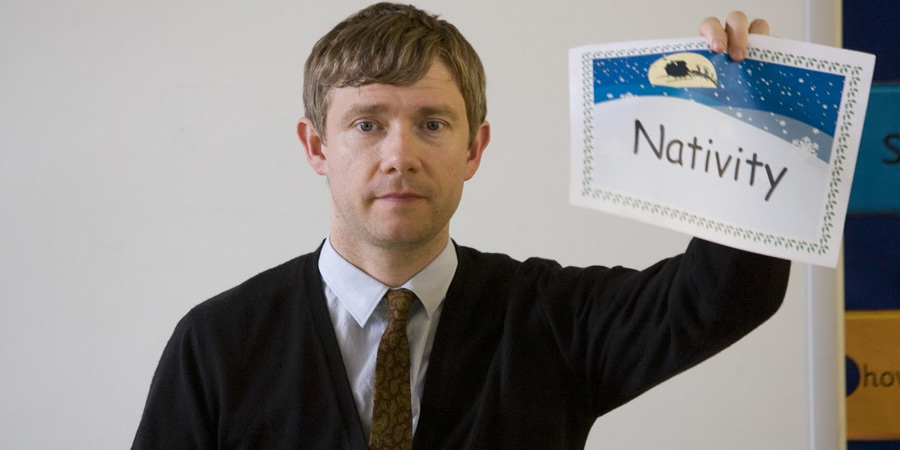 Considering how central the nativity scene is to Christmas it is surprising that nobody has tackled this subject before. Maybe it's because anything even remotely religious tends to be unfairly dismissed as being aimed at weirdos. Nativity (I'm not including that absurd exclamation mark every time) is not a religious film but it does evoke Christmas traditions that are often eschewed on the big screen and that is quite refreshing.
Paul Maddens (Martin Freeman) is a failed actor turned drama teacher who is constantly outshone by his former colleague who works at the local private school. This rivalry comes to a head with the staging of a pair of Christmas nativity scenes, one at each of their respective schools. There is also a daft subplot involving the possibility of Hollywood coming to watch the play (whatever that means).
Nativity doesn't seem to know what it wants to be. On the one hand, the scenes involving Freeman and the antagonist Jason Watkins are funny and natural but the idiotic Mr Poppy character marks Nativity out as more of a kids film, as does the prominence of actual children who feature heavily, with limited success. The wonderful Ashley Jensen also appears as Martin Freeman's love interest and while she is a welcome presence, it is scandalous that such a great comic actress is given such a limited role in a film that purports to be a comedy. It's goddamn wasteful is what it is.
Ultimately, it is unfair to be too much of a Scrooge about Nativity, unlike The Holiday for example which completely deserved it. This is a lighthearted bit of fun, held together by some great comedic actors who are watchable even when they are phoning it in. During this festive season, there should always be a place for cute kids, Christmas songs and Martin Freeman looking perplexed. In that respect, Nativity ticks all the boxes.